5 Promposal Ideas to Make Your Potential Date Swoon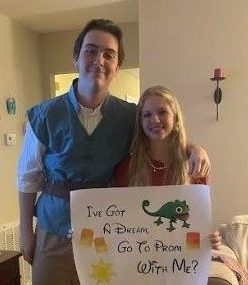 Prom is upon us and it seems like the only thing anyone can talk about. However, what has happened to that spark of creativity present around this time when people ask their dates to prom? There isn't a whole lot of time left until April 29th and so many of our Wildcats have yet to ask their crushes to prom before someone else sways them away. So, for those who haven't yet done so, here are five ideas to prompose to your lovebirds!
Create a TikTok. This idea is very much of our time. I'm not TikTok savvy, but this modern day innovation is a great way to ask someone to prom! Use your clever editing skills and whatever popular sound is relevant! Just imagine your crush opening up their For You page and seeing that sweet surprise!
Make an announcement, literally. This might be a bit extra considering you'd be doing this in front of the entire school! But if your lover appreciates your extravagance, why not? Ask your school's news crew if they would be willing to include a video of you asking your crush to prom.
Ask your date to the big dance with a big dance! Want to be even more campy? Gather a bunch of people and choreograph a dance to embarrass yourself and whoever you're asking to the prom! Flash-mobs are strange ways to do anything, really, but still clever ways to (hopefully) win over your date's heart and get them to say yes!
Serenade them!
Go simple. Design a poster. How sweet, cheesy, and totally not creepy would it be if you showed up to your crush's doorstep holding a huge poster with some forced pun written on it and gifts galore? What's your partner's favorite interest? Incorporate it! Get them some Chick-fil-a and write some odd "chikin" joke on there to make them laugh and make it impossible to say no in front of their mom. Plus, how could they say no when you give them nuggets?
Promposals, while corny, can still be cute and display the soft side of yourself and your date. They can be over the top, but they can also be simple. The creativity you put into them will truly show how much you care. And, the crazier the promposal, the bigger the pressure to get your date to say yes! So, are you really losing in the end?