Fright Night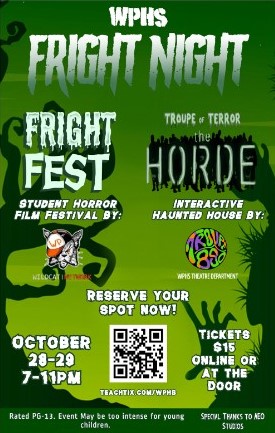 Winter Park's Digital Video and Theatre Departments worked extremely hard to put together the second annual Fright Night, haunted house included.
For the last couple years, the Digital Video Production classes have organized Fright Fest, the student Horror Film Festival. This event has been extremely successful, however last school year (2021-22), two DVP Students, Ethan Garrapy and Madeline Franklin, had the wonderful idea to expand it. 
Ethan and Maddie, both extremely involved in Winter Park's Theatre Department, began to brainstorm an interactive haunted house. In its first year, this new aspect of Fright Night, Troupe of Terror, was a huge hit, inspiring Troupe 850 to go even further. 
Bringing Horde, a zombie-themed haunted house, to Winter Park High School, DVP and WPHS' Theatre Department was so excited to put this all together.