Fighting for the Win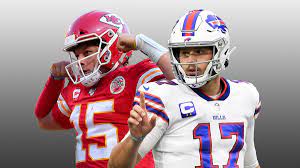 Every second counts. As the 2022 NFL season comes to an end. Players are giving it their all to try and make it to the Superbowl. On January 23, 2022, the Buffalo Bills and Kansas City Chiefs faced off in a game that will be remembered forever. The winner will advance on to play other teams and hopefully get to the Super Bowl. 
Last season, the Chiefs and Bills had faced off. Unfortunately, the Bills were defeated. Although they suffered that tragic loss, they came into this 2022 game with high hopes to redeem themselves. 
The Bills had returned with their new quarterback, Josh Allen, in hopes to triumph against the Chiefs. The game had fans from both teams on the edge of their seats from the first quarter till the last second. Eyes were on the Kansas City Chiefs quarterback, Patrick Mahomes. Both quarterbacks are promising, and fans could not wait to see how they would face off. 
The suspenseful game began with a tie of seven between the two teams, which was followed by yet another tie of seven during quarter 2. However, the Chiefs pulled ahead by winning the third quarter 9-7. There was only one more quarter for the Buffalo Bills to redeem themselves. In the last second, they scored a touchdown, which brought them into the lead 15-13. The once devastated Bills fans erupted into joy. The fourth quarter was over and there was suddenly hope for the Buffalo Bills again.
 Overtime was announced. Josh Allen and Patrick Mahomes stood on the field to do the overtime coin flip. Bills QB, Josh Allen, called tails. Fortunately for the Bills, the coin landed on heads, which gave the Chiefs the ball. While this was great for the Chiefs, the Bills had no chance to achieve their dream because the game would soon be over. 
In only one minute and fifty four seconds, Patrick Mahomes was able to score yet another touchdown for the Kansas City Chiefs. The quarter ended and the final score was out. The Chiefs won with a total score of 42- 36.
Despite which team was favored, both the Buffalo Bills and Kansas City Chiefs showed incredible skills in their playing at Arrowhead Stadium. The Buffalo Bills will wait yet another year to try to beat the Chiefs. The Kansas City Chiefs however will continue on to play the Cincinnati Bengals on January 30, 2022.